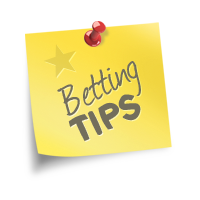 Sportsbooks have an edge. Sports betting fans should have one as well.
You have just spent the day drinking beer by the pool with your buddies, talking about football and the thrill that is sports betting, all while contemplating which team you're going to bet on for tonight's game. You can feel the excitement building up as you discuss it.
However, there's a small problem. You've never placed a wager at a sportsbook, you don't know much about sports betting, and you just learned that it's possible to bet on sports online.
How to bet on sports
Follow these five easy sports betting tips and consult our expert online sportsbook reviews to gain a well-deserved betting advantage. Even the playing field with our expert advice by exploring our definitions and tips to gain the upper-hand! Oh, you also need luck… lots of it!
Reputable Sports Books
Would you trust your money with anyone off the street? We didn't think so and we don't either. But sometimes knowing who to trust is easier said than done. The fact is, there are many online sports betting sites that just aren't worth placing a bet in the first place.
Top sportsbooks generally offer better sign up bonuses, contests, odds, and deposit promotions than the lower level books do. When it comes to your hard earned money – it's better to make the right decision the first time around.
Fortunately, the days when picking a sportsbook was a gamble of its own are over. Make an informed decision by consulting our professional sportsbook reviews that are written by our team of experienced bettors who know the lay of the online sports wagering land.
READ MORE ON REPUTABLE SPORTSBOOKS
Sports Betting Bankroll Management
Ok, so we don't want to sound like your nagging girlfriend, but this one is really easy – don't bet more than you can afford to lose. Sports betting bankroll management is the key to becoming a better bettor. Cashing in winning sports bets isn't just making smart picks, you also need how to manage your bankroll.
Laying a little dough down on your favourite team can add some spice to an already exciting experience – if your team is a powerhouse. However, if you learn to wager properly, you can expect steady payoffs over the long run – it's not rocket science. The better you manage your wagers, and the more responsible you are with your bankroll, the longer the fun will last. Plus, your chances of making a profit rise steadily with proper money management.
READ MORE ON BANKROLL MANAGEMENT
Drunk Bets Are Bad Bets
Drunk Bets sorry to say… are usually bad bets. Although we certainly understand how much fun it is to get wild and crazy after a few drinks, our sober recommendation is to stay away from all things gambling if you're drunk. However, if your buddies are wasted by the pool, and you are planning to bet on who can make the biggest splash in a belly flop contest – feel free to jump right in!
Online Sportsbook Bonuses
Free money is a good thing – especially when you're a sports bettor. But be warned, not all sportsbook bonus offers and promotions are created equal. Some bookmakers reward big fat up-front bonus offers whereas others are more conservative with their offers.
Wagering limits, maximum bonus amounts, minimum deposits, rollover requirements, the list goes on and on, all need to be considered. Simply stated, you NEED to be informed about the various promotional offers before selecting an online sportsbook. Make sure to read the small print as the bigger bonuses almost always lock you into heftier wagering requirements before you can cash out.
READ MORE ON SPORTSBOOK BONUSES
Comparing Sports Odds
Our last and most important tip, bet smart and compare sports odds! Different sportsbooks have different odds. Get smart and start shopping around for the best sports odds online before you bet on sports. Whether you're betting on the Superbowl, the World Cup, or the Stanley Cup, there's no excuse for not doing the homework that will produce the best bang for your buck.